I LOVE jewelry! I especially love cheap jewelry. I extra, extra especially like SUPER cheap DIY jewelry! Today, I'm sharing a pair of earrings that totally fits that description.
Have you ever heard of Agape Love Designs & Photography?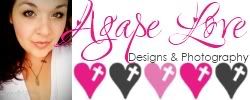 It's the cute blog belonging to Maria-Isabel. She has posted some really cute DIY jewelry tutorials lately. I just loved her Colorful Chandelier Earrings--so much so that I actually made my own pair. I used some purple chain purchased from Walmart for $1 and some beads (not all the ones pictured), jump rings, and other findings that I had in my craft stash.
I followed Maria-Isabel's tutorial, and I have to say that I love my new earrings!
If you like dangly earrings, you are going to have to make yourself a pair of these!
I'm linking to...